Diversion on Woldgate, Bridlington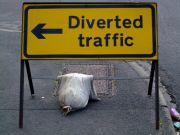 Click image to zoom
Unfortunately part of the "Way of the Roses" cycle route (National Cycle Route 1) at Woldgate near Bridlington must be closed to install a new gas main. There will be a short diversion route in operation which runs parallel to Woldgate along the B1253 via Rudston and Boynton, it is hoped to reduce the length of the diversion as work progresses. During the closure additional signs will be placed along the diversion route warning motorists of cyclists using the road.
Regrettably due to the nature of the works, it is not possible to maintain access along Woldgate. Northern Gas Network have scheduled during the summer months because installation needs to be done whilst demand for gas in Bridlington is low. During installation the contractor will be using a large trenching machine, and will be working 7 days a week to make use of the longer daylight hours, this should reduce disruption to road users as far as possible.
The programmed duration of the work is 16 weeks from the beginning of August however the contractor is hoping to finish earlier. We apologise for any inconvenience this will cause.
For more information contact:
Dave Shepherd
Senior Engineer,Directorate of Environment and Neighbourhood Services
East Riding of Yorkshire Council
Tel 01482 395699