Way of the Roses Coast to Coast Cycle Route Information
Map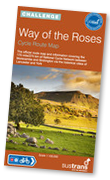 See the full 170 mile route above. Use the interactive map and marker tools to enlarge locations and click on map-pins for more detail.
Thanks to Sustrans Volunteer Rangers and Local Authority partners, the route is generally well signed in both directions but this cannot be guaranteed so the official Map and Guide Book can be purchased from Sustrans on-line shop, Tourist Information Centres and Cycle and other shops along the route.
You can also print off this free flyer which shows the route in outline.
Distances
Split
Distance*
Cumulative
Distance*
Morecambe
0
0
Lancaster
4
4
Clapham
23
27
Austwick
1
28
Settle
7
35
Cracoe
12
47
Pateley Bridge
15
62
Ripon
15
77
Boroughbridge
10
87
York
22
109
Pocklington
18
127
Hutton Cranswick
19
146
Driffield
5
151
Bridlington
19
170
* Approximate distance to nearest mile
Signage

Red and white roses on signs make the route easy to follow in either direction but you may still need to consult a map where a sign is missing or damaged and where a diversion is in place. Diversions: Before and during your ride, please check the news page for on-going route diversions and/or signing issues.
Cycle Friendly Places to Stay
Use the above map and weblinks to book on-line, cycle friendly Guest Houses, Inns and Hotels on the route or, if you prefer to see them in mile order, use our Accommodation List. Campsites, hostels and bunkhouses are also shown. Cycle friendly means that the owners welcome single night cyclists, have secure cycle storage and can either offer meals or there are places to eat nearby. Let us know if you have a recommendation that is not listed.
Our 'Places of Interest' page describes some of the key features on the route. You can also find out more at Visitor Information Centres along the route.
The Visit Lancashire and Welcome to Yorkshire websites cover all of the Lancashire and Yorkshire sections of the route, where you can also check availability and book accommodation on-line.
Car Parking
If you arrive by car and need somewhere to park, your accommodation provider might recommend somewhere or, you could park at the Festival Car Park opposite the Midland Hotel for £3.20 per night (2013 prices). It has CCTV cameras and is well-lit. All Morecambe car parks are open 24/7 and if using Pay and Display, you need to buy a ticket for each day the car is to be left. If you prefer an entirely secure parking arrangement, then the nearest guaranteed security car park is at Parksafe in Lancaster. Other options are available - see http://www.lancaster.gov.uk/parking/ for the list of all Morecambe car parks and charges.
Terrain
Just after York and Dunnington village, there's a short section of route (less than a mile) that's unmade earth and stone track but is usually firm going. Otherwise, the off-road sections are well made and suitable for most kinds of bike.
Click on this link to: see where the big hills are!
The route is best done from West to East (Morecambe to Bridlington) for the greater chance of having the wind at your back. This way you'll be tackling the steeper climbs, but enjoying longer down hills. The steepest and longest climbs lie between Settle and Brimham Rocks and the hill out of Settle presents the greatest challenge.
Unfortunately, going down Greenhow Hill has caught a few cyclists out and NYCC and Sustrans have produced a leaflet to let you know what lies in store. Have a look at this video too - please don't underestimate this demanding hill and remember that descending in the wet can impair your braking.
If you do decide to ride the route East to West (Bridlington to Morecambe) climbing Greenhow Hill out of Pateley Bridge is the toughest challenge of the route. Either direction you'll reach the highest point of the route at Greenhow (402m / 1312') and you'll be high up and exposed to the elements in places, with shelter (from sun, wind and rain) and refreshment not always close-by, so be prepared.
The Start and Finish
The start of the Way of the Roses route from Morecambe is on the sea front just south of the stone jetty and Midland Hotel at the Bastion. Look for the Way of the Roses information board and sign showing Bridlington 170 miles. Many cyclists mark their start with a photo at the Eric Morecambe statue found on the sea front.
The start/finish at Bridlington is on the north side of the bay, a short way down from the Expanse Hotel, at the bottom of Sands Lane - Postcode YO15 2JF. Again look out for an information board and sign, this time showing Morecambe 170 miles.
Both Morecambe and Bridlington will shortly have impressive pieces of artwork in place to commemorate the route.
Train links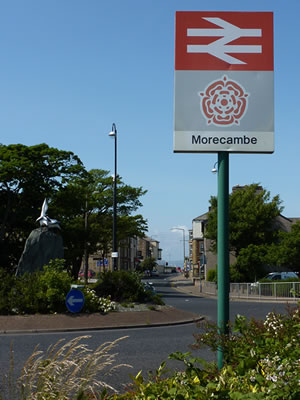 Morecambe is an 11 minute train ride from Lancaster on the West Coast mainline. The service is operated by Northern Rail, who are pretty good at letting you get on with your bike without a reservation and at no extra charge.
(The cycle path between Lancaster and Morecambe forms part of the Roses route so this is another option to the train).
Northern Rail also run the trains on the Yorkshire Coast Line between Hull and Scarborough which stop at Bridlington. Experience suggests that you'd be unlucky not to get a small number of bikes on the these trains (smiling and being polite to the conductor helps), but more than four and you may well be struggling to all get on the same train.
Space is allocated on a first come, first served basis, and strictly speaking they can only carry a maximum of two bikes per train. A 'bike' refers to an unpowered two-wheel cycle - it excludes tandems, tricycles, power-assisted cycles and trailers.
For all train services visit the National Rail website or call 08457 48 49 50. The website for A to B, the sustainable transport magazine, has good bike/rail information.
Return Transport
Smaller groups shouldn't have too much difficulty catching a train with their bikes from either Bridlington or Morecambe, especially if they're prepared to travel out of peak times. From Bridlington cycling on to nearby Scarborough (approx 20 miles on Route 1) might also be a possibility if you want a direct train to York, Manchester or Liverpool. For larger groups, getting home from Bridlington can be a bit of a problem. Local East Yorkshire coach company, Airlink Travel run competitively priced transport for passengers and bicycles to all UK destinations... more info
Guided and Self-Guided Tours
If you want to take the hassle out of planning your trip or feel like you'd need more support, we have several Cycle Tour Operators offering a full range of services, waiting to organise your trip for you.
Or, for more information about cycle-touring and the Way of the Roses cycle route see our 'Preparation' page.