Good Beer and Beach Works in Bridlington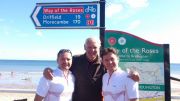 Click image to zoom
If doing the route over the next 6 weeks, don't be concerned by the repairs taking place on Bridlington's north beach to a collapsed section of outfall pipe. This may cause some disturbance on the beach at the eastern end of the route, but access along the promenade to the Welcome board and end/start point, should be unaffected.
If you're looking for some well earned refreshment at the seaside resort, a trio of real ale pubs in Bridlington have been voted into CAMRA's Good Beer Guide for 2014. They are the Marine Bar, (part of the Expanse Hotel near the end/start point), The Ship Inn, Sewerby (cycle the cliff top path north for about a mile), and The Telegraph (near the railway station on Quay Road).
The Railway Station Buffet and Bar, famous for it's award-winning flower displays, has also been recognised by CAMRA and listed as a 'national treasure' untouched by time.
For a range of cyclist-friendly places to stay in Bridlington, please see our Accommodation pages (mile 170).