Love to Rock to Rock?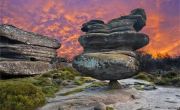 Click image to zoom
If you've an interest in Geology and the natural environment we thought you'd like to know that the Way of the Roses is brimming with opportunities to explore unique features such as Brimham Rocks, (mile 66) a few miles east of Pateley Bridge, which is listed on The Geographical Society's 100 Great UK Geosites
Malham Cove is also listed and you can divert off the route at Airton (mile 41) up Malhamdale for a couple of miles to see it.
The Rotunda Museum in Scarborough, is a 15 mile cycle northwards from Bridlington on National Route 1.
Not mentioned by the Geographical Society, but also on, or near, the route are Great Stone of Four Stones (20.5 miles), Stump Cross Caverns (58 miles), Cold Stones Cut (59 miles), Devil's Arrows (87 miles) and Rudston Monolith (163 miles).
For more information about the great places to visit along the route, visit the official website's 'Place of Interest' page.