Say it with flowers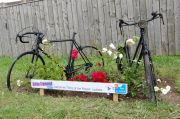 Click image to zoom
Hutton Cranswick villagers have been inspired to create floral displays about the route which comes right through their village (mile marker 146) as part of their Yorkshire in Bloom entry.
Lancaster City Council recently won 'silver gilt' for their clever and colourful Way of the Roses garden at the RHS Tatton Park Flower Show. You can now see it on the promenade in Morecambe near the western end of the route.
In Morecambe stay at The Westleigh, at Hutton Cranswick stay at Highfield Farm and The White Horse Inn.