Signage Not Always Up to Scratch!!!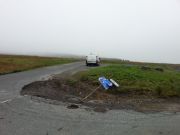 Click image to zoom
One of the signs between Settle and Airton has been damaged (see attached video - guaranteed to make you smile) It is because of this and other eventualities, we usually recommend that cyclists need to buy the official map of the route and not rely totally on signing if they are to avoid getting lost. Map available from the Sustrans shop
It may take some time to get this fixed, so if you do come across this sign, shortly after Settle heading east, do remember to turn right to Airton.
Please let us know if you see any other damaged or missing signs - the sooner we know about them, the quicker they'll be repaired.