Account of the Day!
Account of the Day!
4 work colleagues, from Deloitte LLP in Leeds, all recently indirectly affected by cancer, attempted the Way of the Roses route over one day on Saturday, 14th June, 2014 to raise funds for cancer charities. At the time of writing, 'we have managed to raise just under £2.5k' writes James Izzard whose wife Becky, drove the support vehicle for the whole day.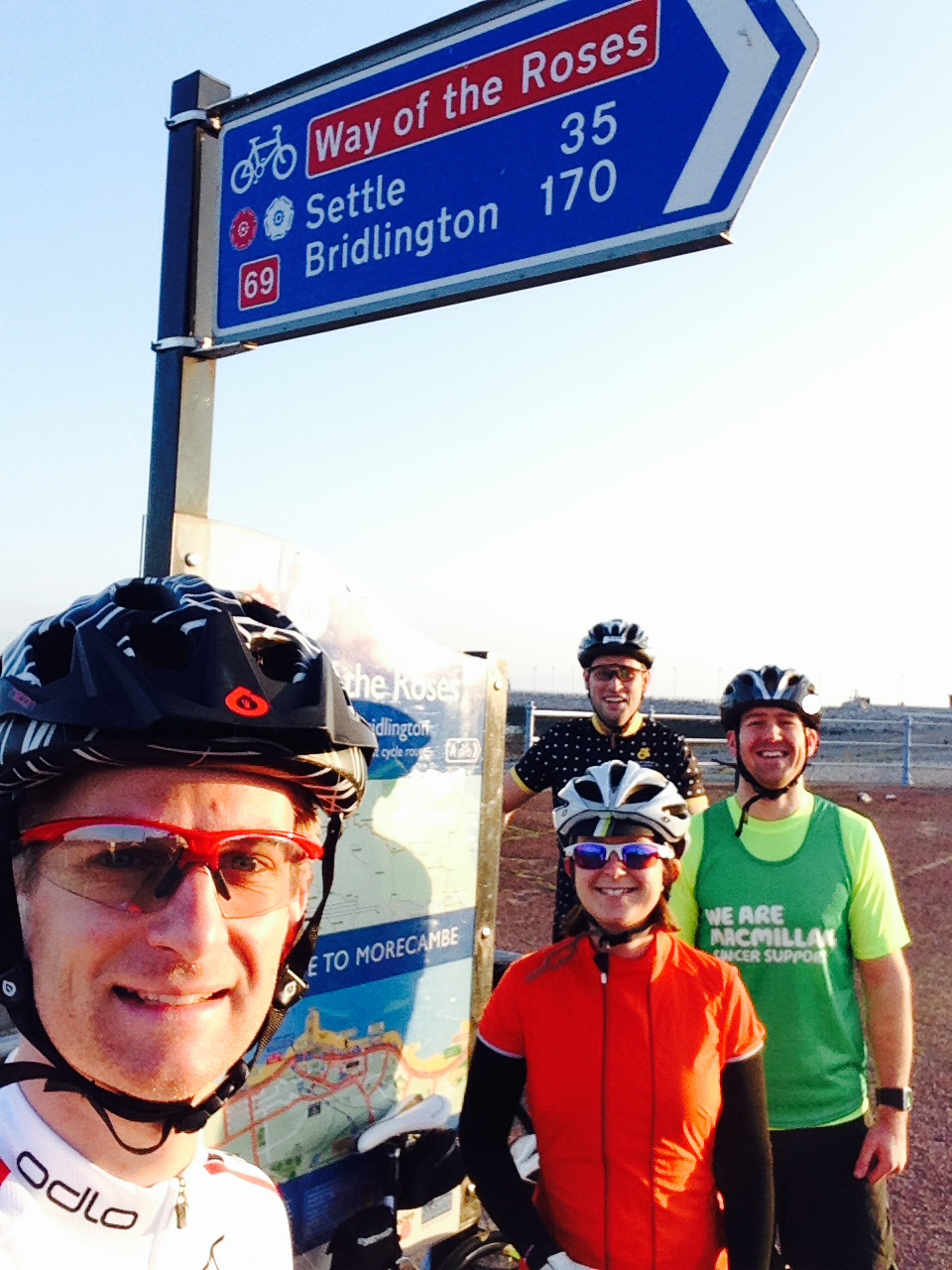 Those taking part were, from left to right James Izzard, Karen Landells, Jim Bloomfield and Ian Stephenson. James' brother Dan joined the group for 55 miles in the middle section.
After a Chinese meal and a nervous night's sleep in Morecambe on the Friday night, we set off from Morecambe Bay in the bright sunshine at around 5.30am on Saturday morning after a quick photo stop at the start line.
All went well until we hit the killer climb out of Settle 40 miles in, which took more than expected out of our legs. We stopped at Cracoe to pick up my brother Dan Izzard who joined the ride as pacemaker for the next 55 miles. (See Dan trying out the yellow tour de Yorkshire bike at Cracoe).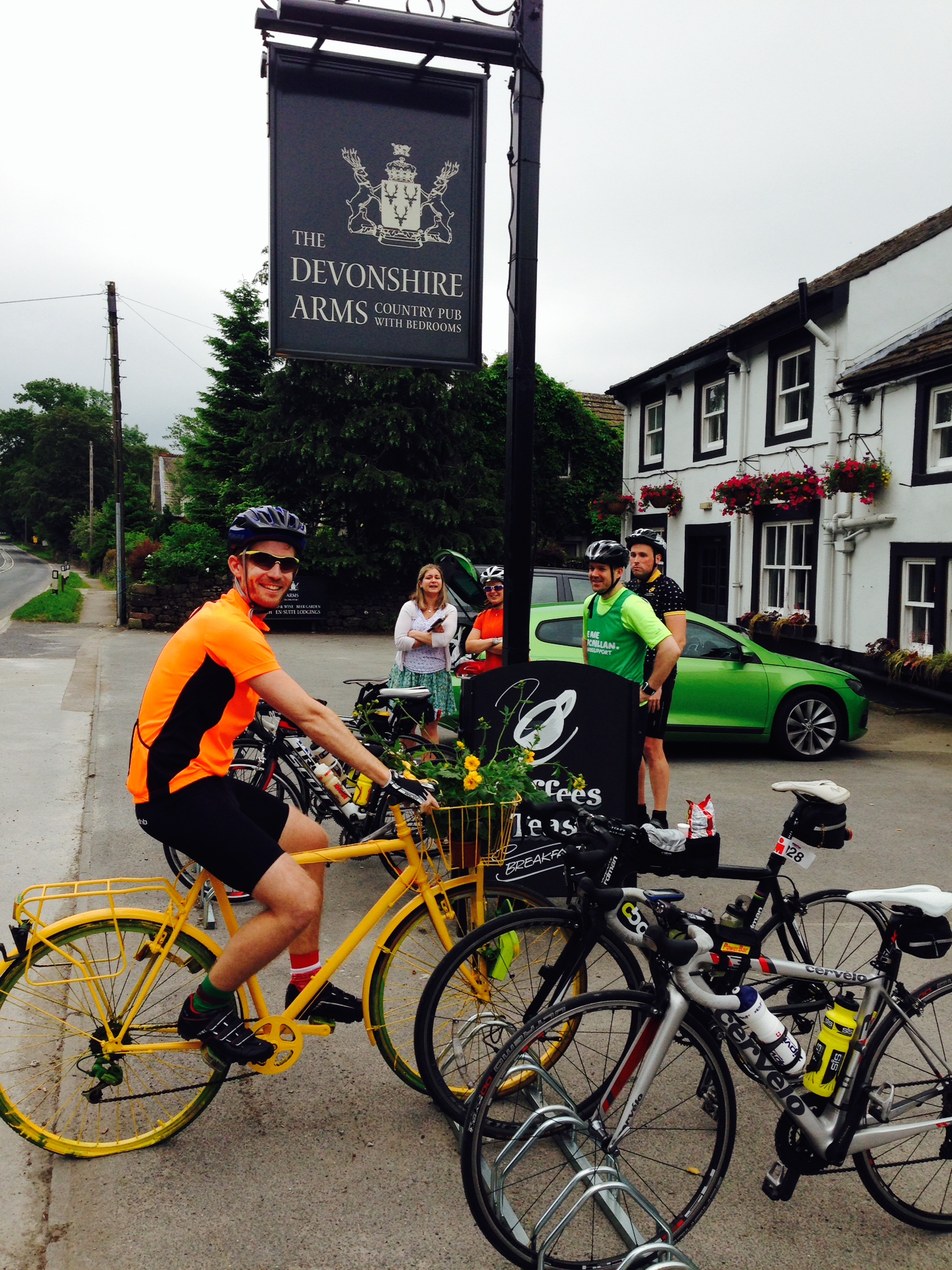 62 miles in, at Pateley Bridge, Jim was really struggling with his Achilles problem so he took the decision to call it a day. We all felt bad when we left him sat on the wall of the car park contemplating a 20 mile ride to Harrogate to get the train home.
Karen, Ian and I ploughed on, accompanied by Dan the pacemaker looking forward to our first major stop of the day in Ripon after 77 miles. After a visit to Greggs, application of some sun cream and some chat with the interested locals we set off again, knowing we had another 93 miles to go. We were slightly behind schedule, mainly due to the climbing we had endured in the first 75 miles so we picked up the pace nicely for the next 32 miles to York. We had a quick car pitstop at Linton on Ouse to lose some layers and top up on fuel.
On the way into York we encountered a problem with a Cow on the cycle path by the river, as it charged Dan as he rode past. The Cow stood its ground as Ian stared it out! Another passing cyclist cleared the cow by using his bike as a battering ram and we were underway again (no cows were harmed in the process). Now in York after waving at several booze cruises on the river, it was 3.15pm and we were 109 miles in, with 61 to go. Ian fell off his bike as he stopped (forgetting to unclip), and Dan left the ride to get the train home after his valuable contribution.
Next stop was Pocklington, 18 miles down the road. Once we were out of the York City walls we got up to some decent speeds again in the now reduced 3 bike peloton, to the extent that we flew past our turnings a few times and had to turn round. We arrived in Pocklington at 4.45pm for the final food stop at my parents' house. After coffees, and sausage and bacon sarnies, we were on our way again for the final 43 miles. 20 mins later we were all at an all-time low. Our energy had gone and legs had lost all power. We knew we were just adjusting to the food intake and so had to stick with it until our bodies were back on line again. Within another 5 minutes after we hit the low we were all back on song again and flying across the Yorkshire Wolds.
After a final mini-stop in Driffield, we only had 19 miles to go. It was getting into early evening by this point and we did get some funny looks as everyone else seemed to be preparing for England's first World Cup group game. We rode on past, wheel to wheel wearing our McMillan and Cancer Research tops.
At 8.30pm we rolled into Bridlington for a sprint finish along the promenade. After a few photos at the finish line with the spectators who had gathered to welcome us we packed up our cars and went our separate ways, in the hunt for fish and chips. For the finish photo we are (from left to right) Ian, Karen, James.
Thanks to everyone who sponsored us. This was one of the things that kept us going. I'm proud to say that so far we have raised over £2,000 for cancer charities. And thanks to Jim, Ian and Karen for agreeing to take up the challenge with me (otherwise I would never had attempted it by myself) and thanks to Becky for driving the 250+ miles all day as the support car. Overall it was a fantastic day. I did the route last year over 3 days and I would recommend it to anyone, either as a leisurely cycling holiday or as a 1-day challenge.
Ride stats:
Total mileage: 171.8 miles
Total climbs: 7,848 feet
Average speed: 14.5 mph
Total moving time: 11 hours 48 minutes
Total ride time: 14 hours 57 minutes
Weather: dry and sunny, 12-20 degrees C, 8-10mph NNW wind.
Bikes: Trek, Cervelo, Scott, Boardman