Legging it from London!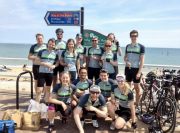 Click image to zoom
The choice of Way of the Roses for Islington Cycling Club's inaugural away trip was an easy one – spurred on by a strong northern contingent from both sides of the Pennines amongst our membership, a desire to go beyond our usual club rides into the Hertfordshire 'alps', and a commitment made in the early hours of the morning at our Christmas Party…
With 14 ICC members signed up for the trip, our approach was a DIY one to keep costs as low as possible. Various options were considered in the early stages, including roping in parents with cars to act as support vehicles, or hiring a van from London to get all our bikes up to Morecambe. In the end, we went with the train, spreading ourselves across various departures on the Friday out of London to get round the bike restrictions (more on those later).
The search criteria for somewhere to stay in Morecambe was largely based on cast iron guarantees about the security of our bikes overnight and a willingness to provide a porridge based breakfast unfeasibly early on the Saturday morning. The Balmoral overlooking Morecambe's promenade obliged on both fronts – and more - letting us take over the entire B&B for the night and serving numerous sun kissed drinks on the Friday as the 'carb loading' began in earnest.
The challenge of 110 miles to York in the first day provoked the biggest debates in our planning – lots of groups riding the route in two days stop after 90 miles in Boroughbridge - but we wanted to get most of the climbs out of the way on the first day. Silverdale Cycles picked up our bags first thing and then we were off. After a gentle start with a forgiving tailwind, the hills are challenging, even relentless at times, but with such stunning scenery it's hard to complain that much. What passed between Settle and Ripon is mostly a blur of tasty sausage rolls, free homemade flapjacks, everyone telling us we were a bit mad, numerous selfies, an old lady with a track pump, pensioners on tandems, and an overall friendliness towards cyclists, and genuine interest that we don't usually get to experience on London's congested and fraught roads.
There were some dark moments on those hills (and some punctures), but 8 and a half hours in the saddle later, we rolled into the YHA in York. One of our members led us through some yoga stretches – much to the amusement of other guests who definitely didn't expect to have their evening pint in the garden interrupted by 14 sweaty cyclists discarding their shoes and socks and rolling around on the grass in sync.
Despite our tired legs, we managed some impressive group riding to zoom through the 60 miles of countryside to Bridlington on the second day – squeezing in a final café stop at Hutton Cranswick for tea cakes, pots of Yorkshire tea, and chatting to a local cycling club.
In Bridlington we were met by the mum of one of our members with prosecco and pies – and then managed to sustain the only real injury of the weekend when one of us fell whilst diving into the sea. We'd arranged with Bridlington Sports Centre to use their showers and then had one more well deserved pint and some fish and chips on the promenade before heading back to London.
Our advice to others:
- double check your Virgin train bike bookings as a few of us were turned away at Euston having booked bikes on but these subsequently being missing on the system
- Use a baggage transfer company – Silverdale were excellent and there's no way we'd have managed the first day with panniers
- Take a Way of the Roses map - it's more fun than an iphone and a Garmin for seeing where you're going and where the hills are
- Northern Rail only allow two bikes per train so be prepared to take off your wheels at the end to get back to Doncaster or Hull for the East Coast connections
- Everyone in your group will have an opinion on some aspect of the trip – we used our club forum to all keep in touch as we planned it and could alert each other to when the cheap train tickets went on sale. And a What's App group share pictures along the way, moan about being back in London and into work on the Monday morning after a great weekend away, and to start planning the next adventure…