Mystery End of Route Sign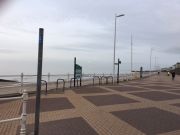 Click image to zoom
The end of route sign in Bridlington has been missing for several weeks leaving many, many cyclists disappointed by the diminished photo opportunity available and in some cases, difficulty identifying where the route ends.
For those of you finishing this week, the end point is opposite Cappucinos cafe and near to the crazy golf pitch.
The sign was removed by East Yorkshire Council for repairs and is due to be re-installed in the next couple of weeks.
In the meantime, thank you for your patience!