Youngest Person to Complete the Route!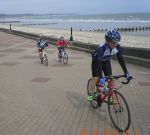 Click image to zoom
William rode as part of a group of 23 riders from the Huddersfield area, which also included a 16 year old and a support group of 8. The party hope to have raised over £4,000 for the local Kirkwood Hospice. Training rides every Sunday morning since the beginning of the year helped prepare all the riders for hilly terrain and longer distances. William, predominantly a footballer at heart, now has the cycling bug too!
Lynda Baldwin, William's mum tells us about their journey from the planning stage through to execution.
Much planning went into this event and we followed the route in a car first, making notes as we went along on suitable stopping places for a mini bus, and car with bike trailer. Thanks to the excellent signage along the route and the planning, the ride itself went very smoothly. The weather was brilliant and with families in tow, we set off Friday evening, staying overnight at a budget hotel in Morecambe. A very accommodating Kath at the Mews Cafe opened up at 7am and served us all with breakfast so that we could get underway from the official start at 9.00 am prompt - it was to be a long day.
Everyone did extremely well and with a mixed age and ability group, including the oldest rider at 65 and the youngest just 12, ladies and gents alike all rode together. The day went without a hitch, in part thanks to 'the rules'! Firstly, there is no 'I' in team, secondly, a support stop every 15 miles, and finally, the golden rule - leaders stop every 5 miles to allow the team to catch up and move on together.
The hills were tremendous but the views and villages we went through were unbelievably beautiful. Scarecrow festivals and car rallies throughout the May Day weekend added even more charm and character to the ride route. The last 15 miles of the first day to Pateley Bridge were arduous and William (youngest) had to be cajoled up and down hills for the last couple of hours.
We stayed at the Harefield Hall Hotel in Pateley Bridge on the first night of the ride. They looked after us superbly and we cannot recommend them highly enough for any future riders. After a delicious carvery meal and an early night, the team set off again on Sunday to attempt the long climb out of Pateley Bridge up to Brimham Rocks. This felt like the hardest bit of the entire ride as it is continuously uphill (some steep bits too) and it's straight into it. The weather didn't help with drizzly rain and wind. Once on top and heading down to Fountains Abbey and surrounding countryside you knew the worst was over!!
The group was supportive of each other throughout the trip. One cyclist would shout out a warning, 'Car Up', 'Car Down', 'stopping' etc and the chant would be set up echoing like jungle drums passed down the line. One particular memorable moment was when coming over Brimham Rocks - Danielle shouted "Rabbit" - as one ran out in front of us!
We are predominately a group of Campers/Caravanners and members of the Camping and Caravanning Club. As luck would have it our friends in Huddersfield District Association were holding a camping meet in Ripon and so we joined them for coffee and cake on route.
Sunday night we stayed in a Youth Hostel in York and our support party cooked a hearty meal for us. Monday, off early at 8am and the weather was perfect again. Not too hot, but fine and sunny. We did really good time the last day, and again the views were to die for. We made it to the finish at 3pm for photos and then packed the bikes into the trailer and made our way to Rags Restaurant for a celebration meal. Again I cannot recommend them too highly for doing all they could to accommodate us and make it as easy for us as possible. They served us quickly and efficiently so that we could be back in the mini bus and cars and headed for home in order that we could all arrive back in Huddersfield for 9pm.
Thanks to everyone involved in creating such a fantastic route!