Toll Bridge Troubles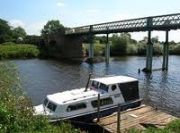 Click image to zoom
Whilst cyclists have the distinct pleasure of a toll-free crossing of the bridge over the River Ure at Aldwark (north west of York), they do need to stop at the toll-keeper's booth, and not be tempted to nip up the narrow inside of vehicles stopping to pay.
The toll-keepers have recently resorted to putting up their own, 'Cyclists Stop' notices, such is their concern about the possibility of an accident!
The iron and timber bridge dates from 1772 and has its own Act of Parliament. Back in the 19th century it was reputedly damaged by an iceberg – climate change not happening then?